Visit: www.MassageTeam.com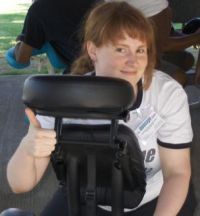 The Massage Team has been Seattle's own corporate massage specialists since the 1990s. We offer both table and chair massage for groups where they gather.

Based in Bellevue WA, we provide mobile massage to workplaces and events including Redmond, Kirkland, Mercer Island, Issaquah, Newcastle, Sammamish, Renton, Bothell, Woodinville, Kenmore, Shoreline, Lynnwood, Burien, Tukwila and points beyond, and all the way to Everett and Tacoma!

Events we service include corporate events, meetings, conferences, conventions, expos, workshops, retreats, parties, picnics, morale and employee appreciation days, appreciation for customers and warm-ups for prospects and product launches.

We also service weddings, bridal and baby showers, bachelor or bachelorette parties, funerals and wakes, bar and bat mitzvahs, and other events to mark life's passages.

As specialists in corporate wellness, we can be part of your workplace's drive toward greater employee health and cost reduction. Employees return to work refreshed and happier, with lower blood pressure and more comfortable bodies. Happier and calmer employees 'play well' together.

Massage promotes everything that a great workplace wants for its team's well being.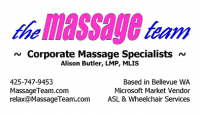 Let our Massage Team take care of your team!
Visit: www.MassageTeam.com